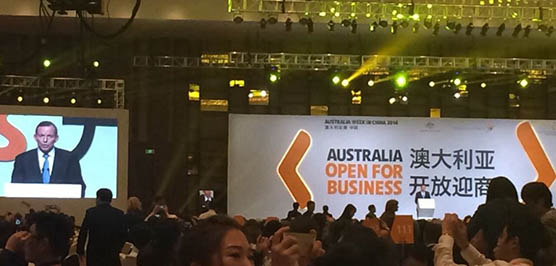 Australia Week in China's (AWIC) four-day events was concluded in Shanghai at 11th April 2014. More than 1,800 Representatives attended AWIC, including Australian Prime Minister Mr Tony ABBOTT, Minister for Trade and Investment The Hon Andrew ROBB MP, Australia Business Representatives, Mayor of Shanghai  YANG Xiong and other Shanghai government representatives. Australia's Homart Pharmaceuticals was also invited to attend this grand ceremony.
Australia Week In China' is Australia's largest commercial events held in China. Over the course of the program, Australian delegates from a range of industries with potential for increasing business with China participate in a series of events in Shanghai, Beijing, Chengdu, Guangzhou and Hong Kong from the 8th of April to the 11th of April. The four-day mission was part of Australia Week in China (AWIC), a Government initiative to enhance Australia's trade, investment, education and tourism engagement with China.
The closing ceremony was held in Shanghai, Australian Prime Minister Tony ABBOTT delivered a speech at the closing ceremony, he said that, 'China is Australia's largest trading partner; the relationships between two countries are significant'. Through the partnership between Australia and China, Abbott believed that there are more potential opportunities for the two countries to work together in the coming years.
This years 'Australia Week in China', was led by Minister for Trade and Investment, Andrew ROBB, and was Australia's largest ever trade mission to China. More than 700 representatives from 564 organizations participated in the program.
Homart Pharmaceuticals, as Australia's leading health supplements and skin care organization, entered into the China market in 2009, and was the exclusive representative of the Australian health product suppliers in the Australian Pavilion during the 2010 Shanghai World Expo. Homart's premium product range – 'Top Life' are in the majority of high-end department stores across China, such as Beijing Lufthansa, Saite, Beijing airport, Beijing Tongrentang, Shanghai first medical, Guangzhong Sasa, Wan Ning, Watson national chain, etc. Homart Pharmaceuticals attended this year's 'Australia Week In China' closing ceremony, to enhance the Australia and China business trade partnership.
For Australian health supplements, Homart is your best choice!
Homart Pharmaceuticals' phone: 02-9648 2880, website: www.homart.com.au.
Photo:Australia Prime Minister Tony ABBOTT and Homart Pharmaceuticals attended 'Australia Week In China's' (AWIC) Closing Ceremony