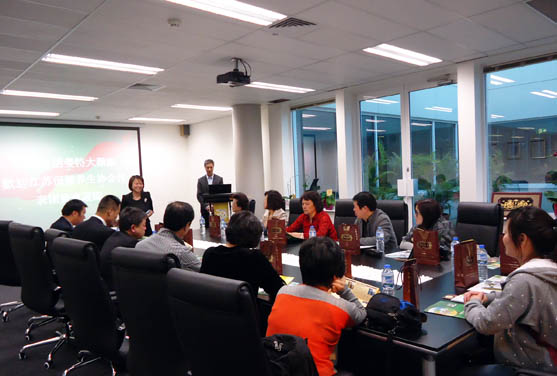 Due to the "Australian Trade Commission's official Australian Government department Austrade's" strong recommendation, Ms Chuying ZHU, president of the "Health Care Industry of Jiangsu Province", led "Jiangsu Health Care Industry Trade Association" to Australia and New Zealand's Top Manufacturers of health food, arriving at Sydney on the 11th of April 2013. They made a special trip to Homart Pharmaceuticals in Rydalmere to observe the running of the company. This trip will help mutual understanding between these two countries and open up new business opportunities for the Australian health care industry.
The members of the visiting delegation included: the "Joy Main Science &Tech" CEO Ms Xionghui HE, "Jiang Su Yunligou Beauty Care products company" Chairman Mr. Jinhe ZHAO, "Bui Shan International Trade Company" General Manager Mr. Cunhui MA, "Lu Yang Village Hotel "and "Tian Ying Hui health Restaurant" Chairman Mr. Zhong WANG, " Jiangsu Maoshan Ge Industry" Chairman Xiarong GUANG, "Yangzhou Wangjin trading company" Chairman Ms. Fang WANG, "Joy Main Science & Tech" Deputy General Manager Ms Sunan LV, "Yangzhou Wangjin trading company" General Manager Mr. Wending YOU, "Jiangsu Yinrun Investment Company" Chairman Mr. Yannian WU, the" Jiangsu Li City Trading Company" General Manager Mr. Yongjian ZONG, "Tian Ying Hui health Restaurant" Manager Mr. Daihui RONG. The delegation consisted of important people in the health care industry in the Jiangsu Province. Of the visitors "Joy Main Science & Tech" has not only more than 3,000 directly operated stores, but has also been selected as" China's 500 Most Valuable Brands" by the World Brand research institutions for four consecutive years.
The visiting delegation was recommended by the Australian Trade Commission (Austrade) for the inspection of the health care industry leaders in Australia. Homart Pharmaceuticals gave them a warm welcome, acting as the representative for all Australian business. In order to show their importance, Homart Pharmaceuticals' Managing Director Ms Lynn YEH and Mr. Daniel on behalf of export business accompanied the visiting delegations as they visited Homart's 15,000 square meters of their new plant, including the cGMP sterile manufacture area, large activity centre, dining room and the Century-old Homart museum, located in the lush green woods. The visiting delegation was highly impressed by Homart's strict standards which have helped to establish a high quality control, and also the natural plant environment of the new site, leaving visitors raving about their experiences at Homart Pharmaceuticals.
Homart Pharmaceuticals' main brands "Top Life", "Spring Leaf" and "Health & Nature" are reflective of 100% Australian high-quality health food. Moreover, Homart Pharmaceuticals high quality skincare brands include the "Golden Hive series", "Skin Code" and "Cheri", also leaving a very deep impression with the visitors. Homart Pharmaceuticals was the exclusive Australian Health Foods Exhibitor at the 2010 World Expo in Shanghai, and our health products and our company have won 12 awards in the three recent years. Our quality products are credible. Homart, the healthy choice for Australia! Homart Pharmaceuticals' phone: 02-9648 2880, website: www.homart.com.au
Photo information:
Ms. Chuying ZHU, the head of Association for the Health Care Industry Association of Jiangsu Province, visited Homart Pharmaceuticals, accompanied by Homart Managing Director Ms. Lynn YEH (In front of screen).