Company Profile 
Established in Australia in 1992, Homart specialises in manufacturing and marketing high quality Australian health supplements. Our Australian GMP Manufacturing Licence (No: 175171) ensures all the supplementary medicine products are manufactured in accordance with the Australian Code of GMP. 
Our Strength 
We differ from other contract manufacturers by providing "Speed with Quality". Our fast turnaround time is evident from the initial product enquiry, right through to manufacturing and delivery. Our guarantee of quality applies not only to our products but also to the customer service we offer. As an Australian company, Homart Pharmaceuticals has continually provided an excellent level of service to its many local customers. As a contract manufacturer, we have also assisted many of our customers in exporting quality Australian health supplements and cosmetics to many countries.
Our Products
At Homart, we formulate natural medicine through experienced chemists and naturopaths. Homart's extensive range of products are covered by 3 brands, they are: Spring Leaf, Health N Nature and Top Life. The health supplements Homart offers ranges from fish oil capsules and vitamins, to unique products such as colostrum tablets, marine collagen capsules, eucalyptus propolis toothpaste, and emu oil products. While the cosmetic product for moisturising and rejuvenating are based on lanolin, placenta, nano-tech ingredient, and herbal extracts. The product line includes lanolin cream, day cream, night cream, body lotion, and rejuvenating golden serum. 
Our Promise
Being in the pharmaceutical industry for many years, Homart understands how significant the product quality must be. Homart holds an Australian GMP Manufacturing Licence (License No: 175171) for manufacturing Supplementary Medicine. To succeed and grow through excellence, Homart has always strived to maintain its good reputation by using the best selection of ingredients & formulations throughout its manufacturing process.
At Homart, we have taken all the cares for our customers, this ensures the product that are dispatched are manufactured under rules and health regulation required by Australian GMP. The Quality Control process is entirely done by our in-house dedicated team that aims to assure the product are not only carrying the highest quality possible, but also are manufactured for the benefit and health of customers' well-being.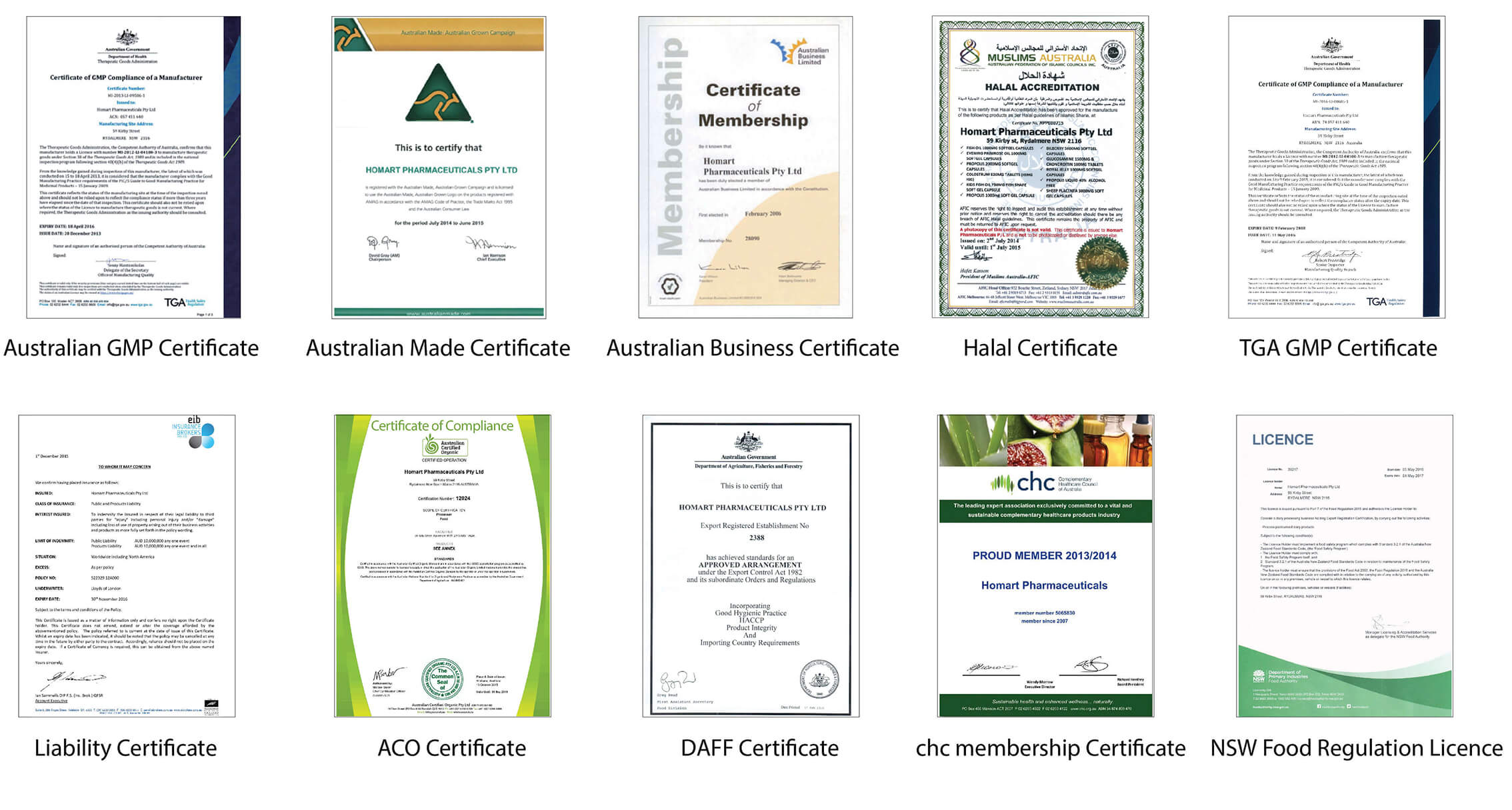 – Australian cGMP Certificate
– Australian Made Certificate 
– Halal Certificate 
– World-wide Insurance 
– Laboratories Tested 
– Mercury Tested 
– Australia Certificate of Origin 
– Australia Health Certificate for AQIS
– Manufacturer has accreditation with the Certification and Accreditation Administration of the People's Republic of China (CNCA)
– Australia Microbiological Testing for the Product 
– Australian Certified Organic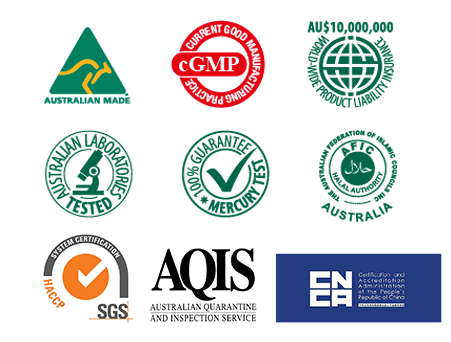 – 2015 NSW Women in international Business. 
– 2014 NSW Women of the Year-Parramatta
– 2014 Western Sydney Business awards 
– 2014 Golden Overseas Compatriot Awards (Taiwan) 
– 2014 Australia Business awards- State finalist
– 2014 AustCham Westpac Australia-China Business Awards – finalist
– 2013 NSW Premier's Export Award. 
– 2013 Australia Action Coach- My Business Awards – finalist
– 2012  Australia Endeavour Awards-Manufacturer of the Year
– 2012 Australia Endeavour Awards-Exporter of the Year
– 2012 Australian Business Champion Awards- manufacturing
– 2011 Australian Energy Efficiency Awards
– 2011 Australia National multicultural marketing Awards
– 2011 AustCham Westpac Australia-China Business Award. 
– 2010 NSW Premier's Export Award, Export of Goods category. 
– 2010 Model of Overseas Entrepreneurs Awards  (Taiwan)
– 2010 Australia NSW Chapter Business Awards- Grand Award (HKABA)
– 2010 Australia NSW Chapter Business Awards – Export of Goods Award
– 2010 World Expo Australian National excusive Health supplement
1992: Established in Sydney. 
1993: Health Supplement R&D Department established. 
1996: Export Department established. Exports to European and American markets begin. 
2000: Homart entered the Asian Market after receiving clearance from local authorities. 
2001: Joined the Australian Made campaign. Membership number 629. 
2003: Received GMP manufacturing certi?cate  from Australian TGA.  
2004: Awarded contracting-manufacturing services for several world-renowned health supplement brands.
2005: AUD 10 million worldwide product liability insurance policy purchased to protect customers.
2007: Subsidiary company established in Shanghai, China. Top Life brand enters China market.
2008: Received Australian Muslim Halal certification.
2008: Acquired an Australian company, Atherton International Pty Ltd.
2008: Homart products given as gifts by Australian officials at the 2008 Beijing Olympic Games.
2008: Homart's second production facility opened.
2010: Exclusive Australian Health Foods Exhibitor at the 2010 World Expo in Shanghai.
2010: Recipient of four awards: NSW Premier's Export Award Export of Goods category; Grand Award winner, HKABA business awards; 
2010: Model of Overseas Entrepreneurs Award in Taiwan; 
2011: Received three awards: NMMA Export Award; AustCham Westpac Australia-China Business Award and Australian Government Energy Efficiency Award.
2012: Third production facility to be built to expand production capacity.
2012: Received three awards: Endeavour Awards – Manufacturer of the year; Endeavour Awards- Exporter of the year; ASBCA Champion Manufacturing Award
2013: NSW Premier's Export Award; Sponsored Australian London Olympic athlete.
2014: Western Sydney Awards for Business  Excellence in Export
2015: NSW Women in international Business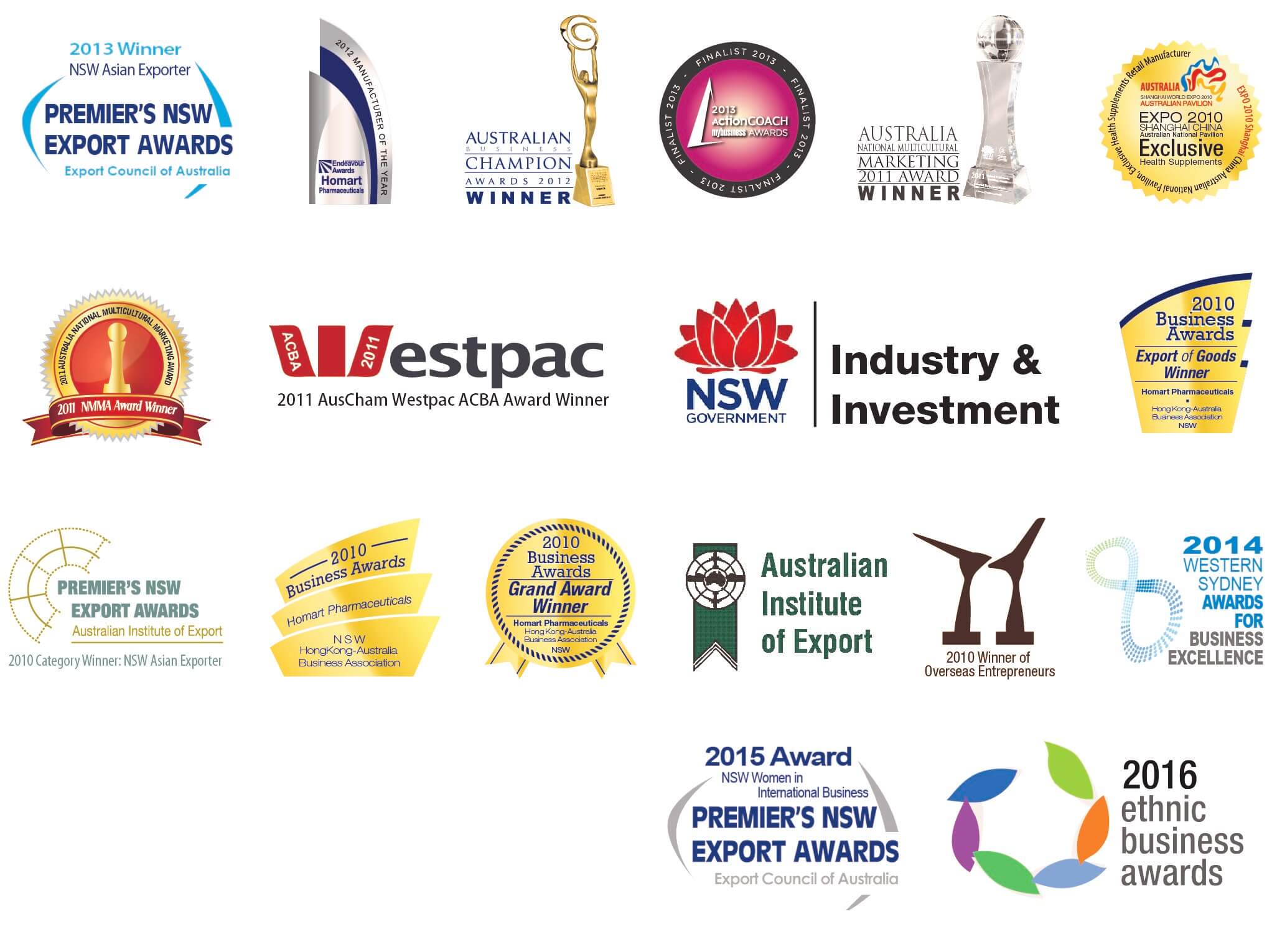 We welcome customers to visit Homart factory

(Australian ABC TV News) Interview Homart Pharmaceuticals Export Success, Nov 2012
Homart Pharmaceuticals 20th Anniversary, Grand Opening and Gala dinner 
Multi-Award Winning Australia Homart Pharmaceutical's Presentation on the 20th Anniversary