Established in 1992, Homart Group has been regularly involved in various charity activities in the past 24 years and dedicated to producing high-quality supplements, skin care and dairy products for people's health. Recently, Homart Group teamed up with Award Entertainment Global, exclusively sponsoring Zhang Jie – Sound of My Heart 2017 Concert -which is going to take place on 18th of June. This time, Homart holds the presale authority of gold seating for the concert in order to secure the tickets for the faithful fans of Zhang Jie. Moreover, Homart also launches a new product for this concert– Spring Leaf Inner Beauty Collagen – which interprets the sweet love that Zhang Jie presents to his wife – Xie Na.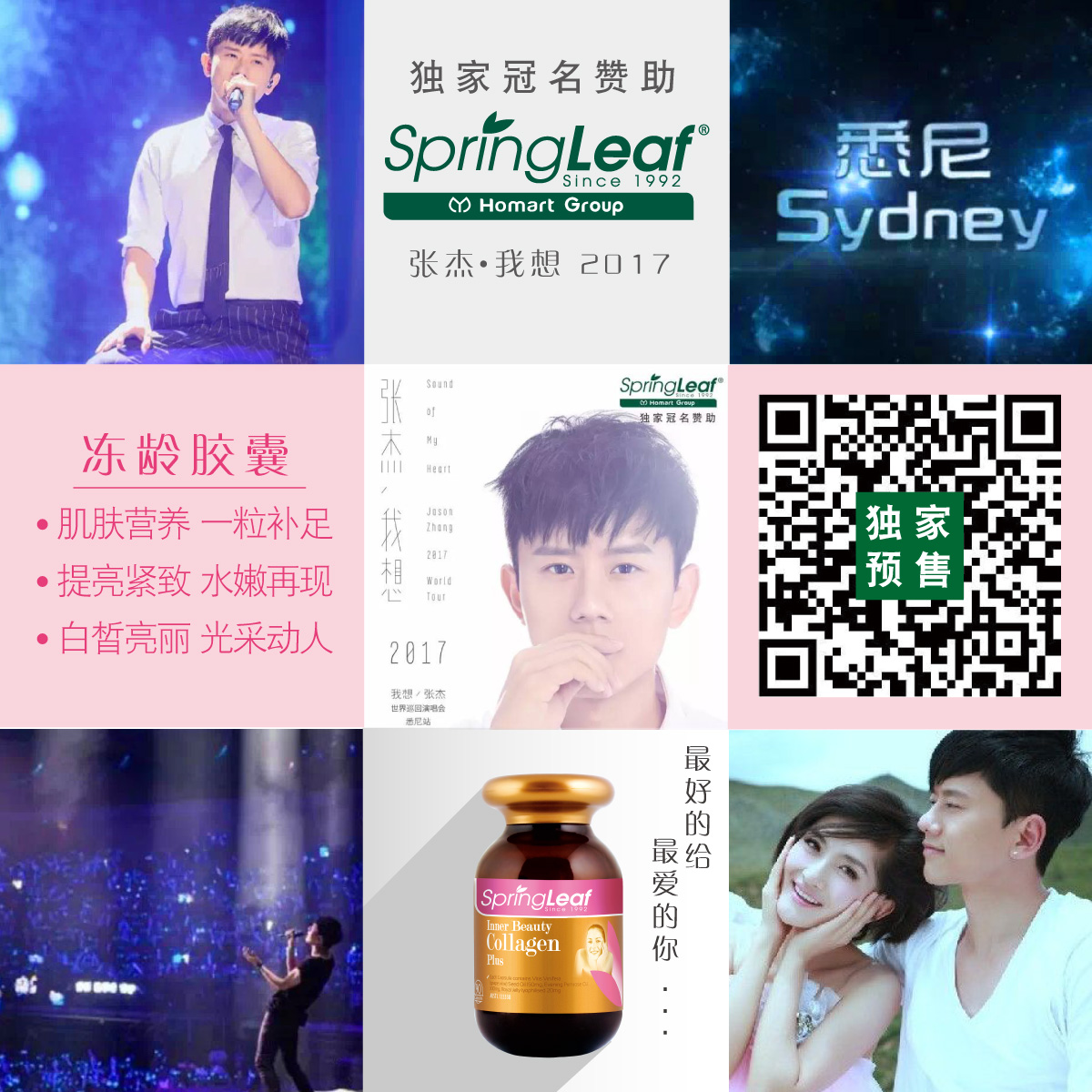 Zhang Jie has won dozens of awards in China. In addition to winning 33 awards of "the most popular male signer", 10 awards of "the best signer", Korea Mne "Star of Asia", he was also crowned as "International Artis" in American Music Awards (AMA). His first single – Sound of My Heart – sold over a million copies within 19 days and became the biggest-selling single in QQ music record. Homart's weibo went viral among the 50 million of the fans of Zhang Jie and the 90 million fans of Xie Na.
Homart top quality, Australian health supplements, skincare products and infant formulas are popular in Australia as well as world-wide. Homart's flagship brands include Top Life, Spring Leaf, Health & Nature, Cheri, Grandpawpaw skincare range and Autili dairy products. Not only have they passed stringent food inspections, Homart also represented Australia in 2008 Beijing Olympic, 2010 Shanghai Expo, and 2016 G20 Hangzhou Summit.
For Australian health supplements, Homart is your best choice!
www.homart.com.au homartdairy.com.au