In its 46th year of establishment, Arab Health 2022 Expo returns to provide "a platform for the world's leading manufacturers, wholesalers and distributors to meet the medical and scientific community in the Middle East and subcontinent." Arab Health is the largest gathering of healthcare and trade professionals in the MENA region. The 2022 edition of the event held on the 24th to 27th January, welcomed 3,590 exhibiting organisations from over 60 countries.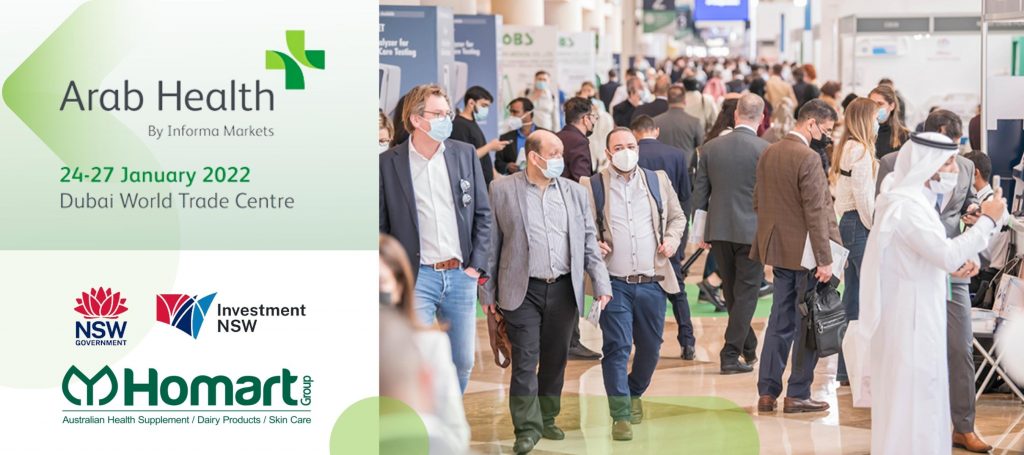 This year, Homart Pharmaceuticals has been supported by "Investment NSW" to continue partaking in this meaningful event. Although we were not able to personally exhibit at the expo this year, we were represented by the NSW government at their stand. Homart was able to continue to showcase as a leading company in brand marketing and manufacturing for Australian-made and designed health supplements, skincare and dairy products.
The Middle East and North Africa region will continue to be shaped by increasing public-private partnerships in their expanding health sector. With over 12 brands across Homart's portfolio, most of the products are sold worldwide: UAE (including Iran and Jordan), Australia, America, China and Asean regions. Our strategic key partners in Dubai, are one of the largest pharmacy chains that show continuous support towards Homart.