Since its establishment 27 years ago, Homart Group has been developing and manufacturing products with its finest materials and formulas and in strict accordance with Australian cGMP regulations. Spring Leaf, one of Homart's nine brands, Spring Leaf Children's Lutein Eye Gummy has not only been popular with many buyers since its launch but also has been favoured by consumers overseas. Recently, "Spring Leaf Children's Lutein Eye Gummy" sales going straight to the first place on Tmall, which is one of the four major e-commerce platforms in China,  and sold 10,000 bottles in three minutes. "Spring Leaf children's Lutein Eye Gummy" is essential for children's eye caring!
"Spring Leaf Children's Lutein Eye Gummy" is designed for children. Lutein absorbs harmful blue light to eyes, relieves eye fatigue, promotes retinal development and maintains good vision. And it is different from other brands that contain more than 50% sugar, "Spring Leaf Lutein Eye Gummy" is completely added sugar-free. It protects children's health with natural fruit juice taste. It is Australian nutritionists recommend children's products. Lutein is a natural antioxidant. Lutein and zeaxanthin are the only two types of carotenoids, which are good for eyes. They can alleviate the decline in vision caused by excessive use of eyes in children's growth and development. The content of lutein in every 2 capsules is equivalent to 20 carrots. "Spring Leaf children's lutein eye Gummy" 2 to 3 capsules a day, let children throw away their spectacles!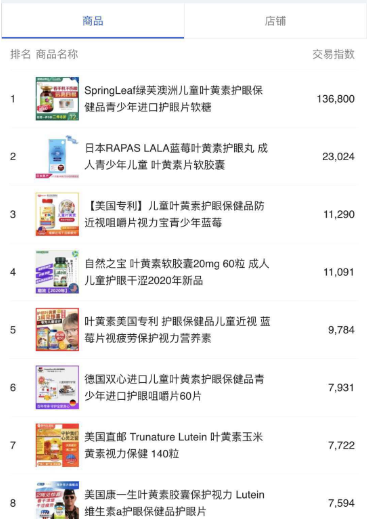 Homart Group has its own cGMP pharmaceutical factory in Australia, and its own brands "Top Life", "Spring Leaf" and "Health N Nature", "Cheri", "Grandpawpaw" and "Autili" are high-quality, modern production of 100% Australian quality health foods, skin care and dairy products. At the 2008 Beijing Olympics, the 2010 Shanghai World Expo and the 2016 Hangzhou G20 Summit, Homart is the only health product supplier in the Australian Pavilion, and has won 16 international awards in Australia for 6 consecutive years. It is also designated by Australian Olympic athletes and Miss Universe Australia. Homart is a healthy food brand and the quality of the product is the preference. Australian first choice in health care, Homart!
www.homart.com.au
www.homartdairy.com.au